At the Behest of Her Majesty Karuru
Sometimes you are allowed to let vanity win out. You are allowed to take the easy way. You are allowed the soft things in life. The Karuru Falls hike is your soft thing. It is a picturesque destination that is easy to reach and simply breathtaking. The view from the vantage point will have you holding your breath for a minute for fear of offending Mother Earth. You know in movies when the man sees the pretty girl and everything slows down for a minute? That will be you when you catch your first glimpse. With us being such a active and fun loving nation, hiking in Kenya might soon overtake partying as far as weekend activities go. Well…not quite but it might soon become almost as popular as partying on the weekends. This is especially as people realize that hiking in Kenya is not just about scaling mountains but can also be staring out into the horizon after barely breaking a sweat. 
Key Attractions
The Karuru Falls is tall and majestic. At 273 m, this is the tallest waterfall in Kenya. You might as well be standing in the presence of one of Kenya's many many wonders. 

Tucked nicely in the

Aberdare

National Park, the waterfall is surrounded by dense greenery. When the wind blows, you might as well be in the opera because it is a symphony of water gushing down below with thunderous speeds and branches swishing in the air like they are weightless in addition to the sound of the wild. You need not bring your music for this hike.

Nature

will perform for you and boy does it show off. 

The Karuru Falls hike should be complete on its own but there are nearby attractions that make the proverbial cherry on the top. On the way to or from the falls, you will drop by Chania Falls. Think of it as a second serving of greatness.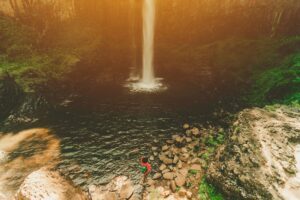 Challenge Level
The Karuru Falls hike is an easy day of hiking in Kenya. The trek is easy enough to handle. This is by design as the trail likes to allow you to focus on the views and sights instead of breathing. You will only perk up enough to glow in your pictures because if ever there was a place to bring your camera, this is it. 
Logistics
The central meeting point is on the benches near Bata Hilton Nairobi CBD. From there, we head out to take public transport to Mutubio Gate – Aberdare. The journey to the starting point is about three hours long. 
 The trail is also self-drive friendly in case you don't want to take public transport.
What do you need for the trail?
3Ltrs water (bring a reusable bottle or a hydration pack)

Snacks: fruit salad, energy drink, warm beverage, biscuits, sandwich, trail mix (nuts), etc.

Personal items (ID, pocket money, hand sanitizer, facemask, phone, and camera, Lighter, Pocket Knife, and First-aid Kit)

Trekking pole

Headlamp

Change of clothes and shoes in case you get wet or muddy.

Sunglasses, sunscreen, sun protection
Here's a list of resources for hiking gear you can check out.
Hiking Gear Vendors – Lets Drift 
Can you bring your kids with you?
Yes. You can bring your children on the Karuru Falls hike. They would love to watch the confidence of the fall. 
Now that you know about Karuru Falls, we hope to see you out there!
Similar trails
If you are a fan of interesting hiking trails in Kenya, Book now, be notified when tickets become available. Similar trails to Karuru Falls are: