Step by Step on the Karirana Trail
The Karirana trail is not exactly one of a kind but it is an interesting place to be all the same. Seated nicely in Limuru, you can expect a hike on the Karirana trail to be punctuated with very moody weather. You might wonder why you bother to begin with. You might find yourself attempting to convince yourself that maybe on this day you should have stayed in bed. Maybe that is true. But if you had, you would have missed out on a lot. We have all of old age to stay in bed and do nothing. What are you going to do when you are sitting there in a diaper? Would it not be nice to have wonderful memories like those made on interesting hiking trails to keep you company?
Key Attractions
You are probably questioning why you need to be convinced so aggressively to hike at Karirana. Is it because, perhaps, there is nothing special to see? That is not it at all. Well, there is a lot to see and experience on this trail. The Karirana trail starts with a walk up a very smug flight of stairs. Often you will look back as civilization is left behind with each step you take. But then, you will also look in front of you and see the view that you are about to enjoy. Perched at the top of those stairs, you will not regret getting out of bed anymore. 

Rural Limuru is very serious about farming so you best believe you will get to take in the sight of

tea farms

and workers mindlessly picking away at the bushes. With actions so muscle memorized it will be breathtaking to watch. In the clearing will be all sorts of wild flowers and vegetation that just beg to be appreciated but never stepped on. 

One of the most notable things about the Karirana trail is an old railway station. This railway station still holds that historical vibe that plunges you back in time. It kind of makes you want to visit your grandparents and sit on their old leather arm chairs. 

A famous fixture in Kenyan history is the Mugumo tree. You will be treated to the presence of one of the few Mugumo trees left standing after so many years. With so much religious and historical significance, this alone will be worth sweating up those stairs.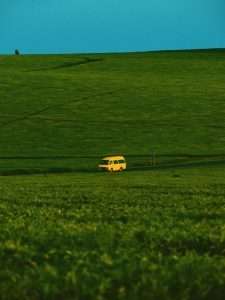 Challenge Level
The Karirana trail is only moderately challenging despite the stairs that seem to go on forever. If it helps, close your eyes and imagine yourself walking up into the clouds then letting yourself just float over villages. 
Logistics
The central meeting point is on the benches near Bata Hilton Nairobi CBD. From there, we head out to take public transport to Limuru. The journey to the starting point is about one hour long. 
 The trail is also self-drive friendly in case you don't want to take public transport.
What do you need for the trail?
3Ltrs water (bring a reusable bottle or a hydration pack)

Snacks: fruit salad, energy drink, warm beverage, biscuits, sandwich, trail mix (nuts), etc.

Personal items (ID, pocket money, hand sanitizer, facemask, phone, and camera, Lighter, Pocket Knife, and First-aid Kit)

Warm clothing

Hiking boots

•Sunglasses, sunscreen, sun protection
Here's a list of resources for hiking gear you can check out.
Hiking Gear Vendors – Lets Drift 
Can you bring your kids with you?
Yes. Hiking in Karirana is a worthwhile experience suitable for older active children.
Now that you know about the Karirana trail, we hope to book you on a trip soon!
Similar trails
If you are a fan of interesting hiking trails in Kenya, Book now, be notified when tickets become available. Similar trails to Karirana are: 
Cianda Walk and Githiga